Interim Deputy Senior Vice President of Enrollment and the Student Experience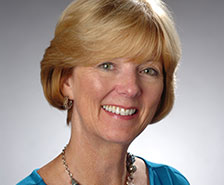 In January 2020, Amanda Nicholson was appointed Interim Deputy Senior Vice President of Enrollment and the Student Experience. In this role Nicholson provides strategic leadership and oversight for enrollment and student life across the University.  Nicholson builds and implements an innovative student success model with the goal of delivering a seamless, high-quality student experience–from a student's first introduction to the University to commencement and beyond.
Nicholson oversees a staff of 450 professionals in over 25 units who provide support and coordination of enrollment and student life services, as well as an operating budget of $55 million and an institutional financial aid budget of $300 million. She is responsible for leading the direction and strategy for a complex portfolio of issues, policies, functions, initiatives and offices focused on the entire student life cycle and student welfare. Nicholson works in collaboration with the Chancellor, Provost, deans, faculty, and divisional staff to deliver a vision for enrollment and student life that attracts, selects, enrolls, retains, develops and graduates a diverse, talented student population. Her work is central to fostering an extraordinary student experience.
Nicholson joined the division in fall 2017 as the Assistant Provost and Dean for Student Success in Enrollment and the Student Experience, working with the division's efforts in student retention, success and graduation. Prior to Nicholson's appointment in Enrollment and the Student Experience, she served as the associate dean for undergraduate programs and professor of retail practice in the Martin J. Whitman School of Management. In addition to serving as a faculty member since 1997, Nicholson has received the University's Meredith Teaching Award; spearheaded the team that created the co-curricular student engagement Goodman IMPRESS program; led the growth of the undergraduate program at Whitman; and created and maintained the Whitman Leadership Scholars Program, among many other accomplishments.  She earned a masters in communications and management from the Newhouse and Whitman Schools in 2001 and her Ph.D. from the Maxwell School of Citizenship and Public Affairs in 2012.
Prior to entering the academy, Nicholson spent over 20 years in the retail field. She began her career in England with Marks & Spencer, then moved to Chicago and ultimately led two apparel divisions as vice president for a regional department store.