Senior Vice President and Chief Financial Officer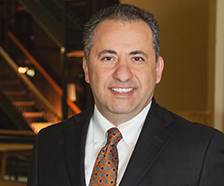 Amir Rahnamay-Azar oversees treasury and University investments, finance and comptroller, planning and budget, facilities, campus services, auxiliary services, and risk management. He also provides administrative guidance to the director of internal audit and work in partnership with Chancellor Syverud and the Chancellor's Executive Team in the allocation and oversight of the University's operating budget.
Rahnamay-Azar served as Chief Financial Officer at Carnegie Mellon University from 2013-16. There, he was responsible for strategic leadership of central administrative functions including campus design and facilities development; computing services; budget and financial planning; treasury operations; international finance; controller and audit services; and financial systems. He directed the successful implementation of CMUWorks, a service center for human resources, payroll, business systems transactions and support. Rahnamay-Azar was also responsible for the planning, design, construction and renovation of university facilities, including more than $350 million in capital projects involving campus facilities.
Prior to his tenure at Carnegie Mellon, Rahnamay-Azar served as Senior Vice President for Administration and Finance at Georgia Institute of Technology from 2010-13. In that role, he was responsible for institutional budget planning and administration; capital planning and space management; institutional research planning; organizational development; enterprise project management; sustainability; real estate development; and financial services. While at Georgia Tech, Rahnamay-Azar operationalized a decision support group and implemented an executive budget support model—two significant initiatives that improved the strategic direction, efficacy and efficiency of university-wide initiatives.
Before joining Georgia Tech, Rahnamay-Azar spent more than a decade working in a number of leadership and financial positions, including as Associate Senior Vice President of Operations, at the University of Southern California (USC). In this role, he served as Chief Financial and Operating Officer for the Office of Senior Vice President for Administration, where he was directly responsible for overseeing budget formulation, annual financial performance, information technology and space planning. Prior to his appointment as Associate Senior Vice President, Rahnamay-Azar served in various positions, including Associate Director of Operations; Senior Staff Associate and Staff Associate in the Office of Budget and Planning.
Rahnamay-Azar earned a doctorate in higher education management at the University of Pennsylvania, as well as an MBA and bachelor's degree in business administration at California State University in Sacramento.