Interim Dean, S.I. Newhouse School of Public Communications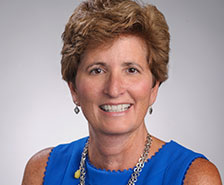 Amy Falkner was appointed Interim Dean of the S.I. Newhouse School of Public Communications in April 2019, after serving as acting dean since August 2018. Falkner joined the Newhouse School in 1998 as an assistant professor of advertising and later served as chair of the department. She was named associate dean for academic affairs in 2006 and senior associate dean for academic affairs in 2013.
Falkner's senior associate dean portfolio included oversight of course planning and scheduling, curriculum development—including the design of the school's online master's in communications program—and finalizing steps in the merger of the school's newspaper and magazine programs to create the magazine, news and digital journalism department. She has overseen all faculty searches for 13 years and has been a dedicated supporter of increasing faculty diversity.
Noted for her work in the classroom, she is a two-time winner of the Newhouse Teaching Excellence Award, which is chosen annually by students. She was also honored with the Meredith Teaching Recognition Award from Syracuse University.
Before entering higher education, Falkner worked for 10 years in the newspaper industry in both editorial and advertising. During her newspaper career, she was named to PRESSTIME magazine's "20 Under 40" list, which honors young professionals in the newspaper business.
After earning a master's degree in magazine journalism from the Newhouse School, Falkner was a fellow at the Poynter Institute for Media Studies in the media management and entrepreneurship program. She holds a bachelor's degree in communications/journalism from St. John Fisher College.