Senior Vice President for Safety and Chief Law Enforcement Officer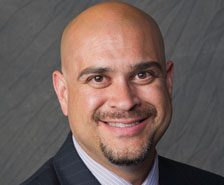 Anthony Callisto was chosen to lead the newly formed Division of Campus Safety and Emergency Services in December 2014, providing leadership to each area of the division to ensure a unified, student-centered approach to protecting the campus community and providing exceptional service. Callisto also leads all campus safety and emergency services collaboration efforts with other University divisions, departments and units, and external partners.
Callisto served the University as Chief of Public Safety since 2006 after 25 years with the Onondaga County Sheriff's Office, the last 10 years as chief deputy. Callisto is a regional and national public safety, criminal justice and law enforcement expert and leader, both in government and higher education. He has served for the past 13 years as an adjunct professor of criminal justice, developing and teaching both undergraduate and graduate courses at Columbia College and Keuka College.
Callisto holds a master of arts in public administration from the Maxwell School of Citizenship and Public Affairs and has 15 years of experience as a national consultant in organizational development, conflict resolution, interest-based negotiations and labor relations.