Dean, School of Information Studies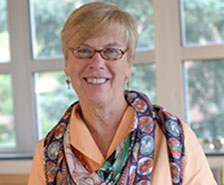 Elizabeth D. Liddy was appointed Dean of the School of Information Studies (iSchool) in February, 2008, after being named Interim Dean in June, 2007. In January, 2015, Liddy was appointed Syracuse University's Interim Vice Chancellor and Provost by Chancellor Syverud, and served as the University's Chief Academic Officer, responsible for the academic mission of the University, and leading the strategic academic plan portion of the Chancellor's Fast Forward Syracuse University-wide initiative. Liddy held this appointment until May 2016.
Prior to her appointment as Vice Chancellor and Provost, she spent 25 years as a faculty member, researcher, and dean at the iSchool.
In 1994, Liddy founded and led a software startup company, TextWise, and as CEO grew it to 50 employees, winning the prestigious National Tibbetts Award from U.S. Small Business Administration. In 1999, she was named founding director of the iSchool's Center for Natural Language Processing, which advances the development of human-like language understanding software capabilities for government, commercial, and consumer applications. The holder of eight software patents, Liddy has led 70 research projects, authored more than 110 research papers and given hundreds of conference presentations on her work. She received the Outstanding Alumni Award from Syracuse University in 2000.
Liddy was named interim dean of the iSchool in June, 2007, and appointed full-time dean in February, 2008. She held the position of dean until being named Vice Chancellor and Provost. As dean, Liddy presided over the iSchool during a period of tremendous growth for the school, including the addition of New York State's first graduate certificate program in data science. She was the founding Faculty Advisor of Women in Information Technology (WIT), a student group that supports and mentors female IT students.
Liddy holds a bachelor's degree in English from Daemen College, and a master's degree in library science and doctorate in information transfer from the Syracuse University iSchool.