Dean, Martin J. Whitman School of Management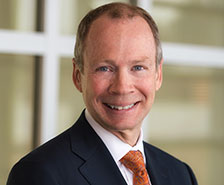 Gene Anderson is Dean of the Martin J. Whitman School of Management at Syracuse University. He is responsible for enhancing the school's research and educational programs, building its reputation and strengthening its finances.
Anderson is a widely cited scholar with 15 years of academic leadership experience. He is passionate about student and alumni success; high-impact research and education; diversity and inclusion; and the potential for business schools to advance the economic, social and overall health of communities worldwide.
Previously, Anderson was D. Maynard Phelps Professor of Business at the University of Michigan, serving in a series of roles including Senior Associate Dean for Academic Affairs. Most recently, he was Dean and Schein Family Chair in Business at the University of Miami School of Business.
Anderson has collaborated with faculty and staff to launch more than 20 new degree programs – the majority interdisciplinary or online/hybrid; to revise existing programs to be more global, experiential and relevant; and to significantly enhance enrollments, placement, diversity, research support, fundraising, revenue and rankings.
His research on marketing and business performance has been published in all four premier academic marketing journals and he has served on their respective editorial boards. In a recent study, three of his papers ranked among the Top 50 most impactful articles on research and practice. One is the second most cited article in Marketing Science. Overall, his work has received more than 4,000 SSCI citations and 30,000 Google Scholar citations.
Anderson holds a doctorate from the University of Chicago and master's and bachelor's degrees from the University of Illinois at Urbana‐Champaign.