Chief Diversity and Inclusion Officer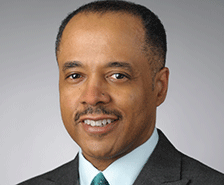 Keith Alford was appointed Syracuse University's first Chief Diversity and Inclusion Officer in May 2019. Since July 2018, Alford served as Interim Chief Diversity Officer, following the recommendation of the Chancellor's Workgroup on Diversity and Inclusion. The position provides executive leadership, oversight and vision for a range of services, programs, policies, and procedures related to advancing the institution's commitment to diversity and inclusion.
Alford is an associate professor, chair of the Falk College's School of Social Work, and graduate program director. His areas of specialization include mental health service delivery to children and families, culturally specific programming for children in out-of-home care, contemporary rites of passage programming, and loss/grief reactions among African American families.  Through his teaching, he is involved with a National Science Foundation grant supporting the training of diverse undergraduates in conducting trauma research with veterans. He also serves on the Faculty Senate Committee on Diversity and is a member of the Division of Enrollment and the Student Experience's Diversity and Inclusion Advisory Council.
A former child protective services worker, outpatient family therapist and therapeutic foster care supervisor, Alford has devoted his professional life to serving and researching the needs of children and families. He has been affiliated with InterFaith Works for more than 22 years as a facilitator of community-wide dialogue circles to end racism.
Alford's academic writings have appeared in numerous social work journals and he has authored book chapters in Mental Health Care in the African American Community (Haworth Press, 2007) and Educating Our Black Children (Routledge, 2001). He is co-editor of Rural Families and Reshaping Human Services (Routledge, 2015).
Alford earned a Ph.D. from the College of Social Work at The Ohio State University in Columbus, Ohio, where he also organized and facilitated the African American Men's Support Group.  He earned a Master of Social Work, also from OSU, and a Bachelor of Arts in history and sociology from Coker College in Hartsville, South Carolina.