Associate Provost for Faculty Affairs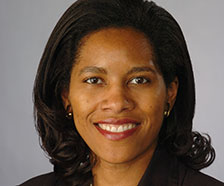 As Associate Provost for Faculty Affairs, LaVonda N. Reed is a senior leader in Academic Affairs, with a portfolio of responsibilities designed to facilitate and support faculty success in academic life. She plays a key role in such areas as faculty recruitment, new faculty orientation, promotion and tenure review, career and leadership development, teaching support, awards and recognitions, creating and interpreting faculty policies and mentoring and growth of faculty, among other key responsibilities.
A member of the College of Law faculty since 2006, Reed teaches and conducts research in the areas of wills and trusts, property, and communications regulatory law and policy. She also is a past fellow of Syracuse's Institute for the Study of the Judiciary, Politics and the Media.
Before coming to Syracuse, she was a member of the faculty at the Louis D. Brandeis School of Law at the University of Louisville. Prior to that, she was an attorney in private practice with the international law firm of Paul, Hastings, Janofsky and Walker LLP and a judicial law clerk to the Honorable Donald W. VanArtsdalen of the U.S. District Court for the Eastern District of Pennsylvania. She has served on a member of committees and task forces and in many professional community organizations.
Reed earned a bachelor's degree from the University of Virginia and a juris doctor from the University of Southern California. She is licensed to practice law in Maryland and the District of Columbia.