Dean, S. I. Newhouse School of Public Communications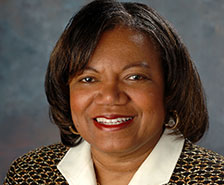 As Dean of the Newhouse School since 2008, Lorraine Branham has focused on curricular innovations, entrepreneurial thinking, and new forms of storytelling and professional partnerships in an effort to prepare Newhouse students for a rapidly changing media industry. Under her leadership, the school established the Center for Digital Media Entrepreneurship; the Peter A. Horvitz Endowed Chair in Journalism Innovation; and the W2O Group Center for Social Commerce. Branham also oversaw the development of a student-produced, web-based news magazine, NewsHouse, and the creation of Newhouse's Center for Sports Media and its sports communications program. She was the driving force behind the establishment of SU's LA Semester and the Newhouse in New York program. In 2014 she dedicated the School's $18 million state-of-the art production studio and innovation center after a successful fundraising campaign.
Before coming to Newhouse, Branham was director of the School of Journalism and G.B. Dealey Regents Professor at the University of Texas at Austin (UT). Branham joined the UT faculty after a 25-year career as a newspaper editor, editorial writer and reporter. She was previously the assistant to the publisher of the Pittsburgh Post-Gazette and senior vice president and executive editor of the Tallahassee Democrat, and held several positions at the Philadelphia Inquirer, including associate managing editor for features. She also worked as a reporter at the Philadelphia Tribune; the Courier-Post in Cherry Hill, N.J.; the Philadelphia Bulletin; and the Baltimore Sun.
Branham holds a bachelor's degree in television, radio and film from Temple University. She also attended the Women in Management Program at the University of Baltimore; the Advanced Executive Program at Northwestern University and the Management Development Program (MDP) at Harvard University. In addition, she was awarded a John S. Knight Fellowship to Stanford University, where she studied American foreign policy in third world countries and media management.