Chief Advancement Officer and Senior Vice President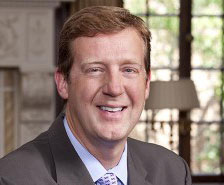 Matthew Ter Molen provides counsel to Chancellor Kent Syverud to determine long-term expectations for a best-in-class advancement organization, including planning, timeline, allocation of resources, capacity projections and infrastructure needs. He cultivates, secures and stewards complex principal gifts, in partnership with the Chancellor and gift officers, while creating an environment of continuous improvement for the advancement organization.
In February 2015, Ter Molen came to Syracuse from Northwestern University, where he had most recently served as associate vice president and campaign manager for "We Will. The Campaign for Northwestern," a $3.75 billion fundraising effort.
Ter Molen graduated from Miami University in Ohio. After nearly three years in the Peace Corps in Honduras, his first fundraising position was in 1990 at the University of Chicago, where he started as an assistant director in annual giving. From 1990 to 1998, he held successive positions there, spending four years as the director for annual giving during its $500 million "Campaign for the Next Century," as well as time as a regional major gift officer.
In 1998, Ter Molen was hired as the assistant dean for development for the Weinberg College of Arts and Sciences at Northwestern University, and led the arts and sciences portion of "Campaign Northwestern," directing the fundraising of $190 million for key college priorities over a five-year period. In 2003, Ter Molen became the Associate Vice President for Alumni Relations and Development at Northwestern, managing a variety of giving teams.