Vice President for Information Technology and Chief Information Officer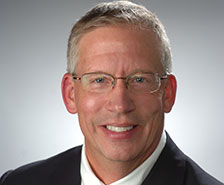 Samuel Scozzafava joined Syracuse University in 2007 and has served in several leadership positions with the University's Information Technology Services (ITS) department since then, including manager of the student administration application development team, director of enterprise application systems, and associate chief information officer for administrative systems.
In his capacity as Vice President for Information Technology, Scozzafava is responsible for overseeing ITS, which provides centralized technology and support services for academic and administrative functions of the University. The ITS portfolio includes the campus networks and internet connectivity, enterprise academic and administrative systems, information technology security, telecommunications, enterprise software licensing, and telephone and walk-in service centers.
As Chief Information Officer, he also is responsible for providing and promoting cost-effective and strategic applications of information technology at the University; overseeing IT disaster recovery, security and privacy; and ensuring that the University appropriately invests in technologies to support teaching, research, learning, and administration. Scozzafava provides leadership and acts as a catalyst for unifying the various information technology visions across campus, and is the primary consensus builder in coordinating technology acquisition and deployment at Syracuse University.
Before coming to Syracuse University, Scozzafava spent more than 20 years in and around IT support and leadership in the financial services industry. He holds a bachelor's degree from the State University of New York at Potsdam and earned a master's degree in information management from the iSchool.