Senior Vice President and General Counsel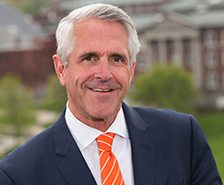 Daniel French is the University's Senior Vice President and General Counsel.
French's private practice involves complex civil litigation and white collar criminal defense.
Before entering the private sector, French served as United States Attorney for the Northern District of New York, where he was the chief federal law enforcement officer for 32 of New York's 62 counties. French also served as an Assistant United States Attorney assigned to the criminal division in Syracuse, and as a confidential law clerk for the then United States District Court Judge Rosemary S. Pooler. In addition, French served as Acting Deputy Staff Director to the United States Senate Committee on Finance, Executive Assistant to United States Senator Daniel Patrick Moynihan and as a Professional Staff Member to the United States Senate Committee on Environment and Public Works.
In 2007 Attorney General Andrew Cuomo appointed French a Commissioner of the New York State Commission on Public Integrity, a position he held for two years. French served as a member of the Board of Trustees of the Federal Court Bar Association of the Northern District of New York from 2005 to 2013.
French assumed his role as the University's General Counsel in 2014. In this role, he advises the Chancellor, senior leadership team and Board of Trustees on all legal matters. French often works directly on significant University transactions, litigation, investigations and policies. For example, he devotes substantial time to high-value real estate and sponsorship deals, high-profile threatened and filed lawsuits, senior employee misconduct investigations, and health and safety policies related to COVID-19. He works closely with the Athletics Department on compliance and other legal issues, and was instrumental in formalizing and modernizing the governance structure of the University's athletic conference, the ACC. French also regularly works with the Division of Communications on crisis and other communications, and the Department of Public Safety on serious campus safety issues.
French earned a juris doctor cum laude from the Syracuse University College of Law in 1995, and a bachelor's degree cum laude from the State University of New York College at Oswego in 1987.