Interim Senior Vice President and University Secretary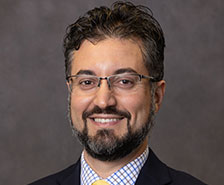 Guilherme Costa was named Interim Senior Vice President and University Secretary, effective January 1, 2022. Costa heads the office of the Board of Trustees, which is responsible for coordinating and facilitating the activities of the Board and its various committees to ensure the effective and efficient operation of the University's system of governance. Costa works closely with the chair of the Board, the Chancellor, senior administration, and committee chairs of the Board, to provide advice and guidance on strategy, policy, and process. Before his appointment, Costa served as Senior Associate Vice President and Deputy University Secretary at Syracuse University.
Before joining Syracuse University, Costa served as Vice President, General Counsel and Secretary to the Board of Trustees of Ithaca College where he provided executive and administrative leadership over the Division of Legal Affairs, which included the Office of the Board of Trustees, the Office of General Counsel, and the Title IX Office. Costa also served as a member of the President's Senior Leadership Team, responsible for developing institutional objectives, budget priorities, policies and procedures and providing executive leadership over the day-to-day administration of the College.
Prior to that role, Costa served as General Counsel to the South Dakota Board of Regents where he was the chief legal officer to the Board of Regents and to each of the six public universities and two special schools under its governance. Costa provided legal advice and counsel to the Board, the Executive Director/CEO, system office senior staff, and university presidents and vice presidents on all matters affecting the legal rights and responsibilities of the Board and each of its institutions.
Previously, Costa served as Associate General Counsel and then as Deputy General Counsel at the University of Idaho where he led the administrative operation of the Office of General Counsel and carried an independent generalist practice advising on all areas of the law, with emphasis on student affairs, business operations, and litigation.
Before transitioning to higher education law, Costa was an associate attorney in the health care practice group in the Washington, D.C. office of Drinker Biddle & Reath LLP (now Faegre Drinker), a national full-service law firm.
Costa earned a juris doctor from the University of Notre Dame Law School, a Master of Science in Adult/Organizational Learning and Leadership from the University of Idaho, and two bachelor's degrees from the University of Florida, a Bachelor of Arts in Political Science with a minor in Latin American Studies, and a Bachelor of Arts in Business Administration. Costa is admitted to practice law in New York, where he is also a licensed real estate broker.