Senior Vice President for Enrollment and the Student Experience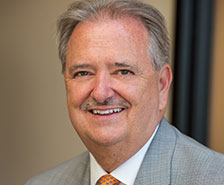 Dolan Evanovich is the Senior Vice President for Enrollment and the Student Experience, providing strategic leadership and oversight for enrollment and student life across the University.  The first leader of the new Division of Enrollment and the Student Experience, Evanovich builds and implements an innovative student success model that delivers a seamless, high-quality student experience – from a student's first introduction to the University to commencement.
Evanovich oversees a staff of 400 professionals in over 25 units who provide support and coordination of enrollment and student life services, as well as an operating budget of $54 million and an institutional financial aid budget of $220 million.  He is responsible for leading the direction and strategy for a complex portfolio of issues, policies, functions, initiatives and offices focused on the entire student life cycle and student welfare.  Evanovich works in collaboration with the Chancellor, Provost, deans, faculty, and divisional staff to deliver a vision for enrollment and student life that attracts, selects, enrolls, retains, develops and graduates a diverse, talented student population.  His work is central to fostering an extraordinary student experience.
Prior to his appointment at Syracuse University, Evanovich served as vice president for strategic enrollment planning at The Ohio State University (OSU), where he oversaw all aspects of enrollment for OSU's main campus and four regional campuses.  He also played an essential role in improving OSU's academic profile and enhancing the diversity of OSU's student body.
Throughout his career, he has held various leadership positions in admissions, enrollment planning, management and institutional research, including vice president for the Division of Enrollment Planning, Management and Institutional Research at the University of Connecticut, director of undergraduate admissions at Arizona State University and Eastern Michigan University, and associate director of admissions at Lock Haven University of Pennsylvania.
A nationally and internationally distinguished expert in strategic enrollment management, Evanovich's work has been recognized by CBS Evening News, the Educational Policy Institute (EPI), the American Marketing Association (AMA), the College Board, and numerous state and national organizations.
Evanovich earned a master's degree in geography and regional planning, as well as a bachelor's degree in urban planning from the California University of Pennsylvania.