Senior Vice President for International Programs and Academic Operations and Chief of Staff, Academic Affairs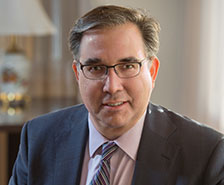 Steven Bennett plays a critical role as chief of staff in the Office of Academic Affairs, overseeing academic operations for administrative units that report to the Office of the Provost, including Information Technology, Syracuse Abroad, and satellite facilities around the U.S. and the globe. He also works closely with the Provost and their leadership team on planning and budgetary matters.
Bennett comes to Syracuse University from The Brookings Institution, where he served as Vice President and Chief Operating Officer. In this position, he supervised the interactions among the institution's research programs, and between the research and non-research sides of Brookings, promoting collaboration and interdisciplinary work. He also helped develop and operationalize the institution's strategic plan and institution wide program objectives.
Prior to his career at Brookings, Bennett served as Executive Director for several nongovernmental organizations focusing on the intersection of trade and development. He was co-founder and executive director of the Global Fairness Initiative (GFI), an international leadership initiative to advance innovative models of economic engagement in impoverished countries. He also has served as Executive Director of Witness for Peace, an international human rights/economic justice advocacy organization, and as interim executive director and program director for National Neighbors, promoting growth and opportunity for urban neighborhoods.
Bennett, who grew up in Syracuse, earned a BA from Colgate University and a master's in public policy from Georgetown University. He returned to Syracuse for post-graduate study at the Institute for Creative Conflict Resolution in 1995.