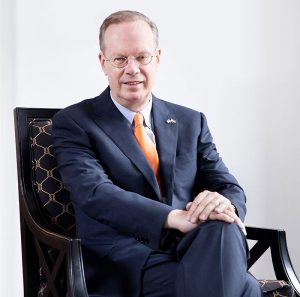 Chancellor Kent Syverud is the 12th Chancellor and President of Syracuse University. Now in his tenth year as Chancellor, he has worked with faculty, students, staff, trustees and alumni to steward the University during a period of transformational change and progress. A strategic plan spearheaded by Chancellor Syverud has reinforced and advanced Syracuse's aspirations, focused on redefining and enhancing every aspect of the student experience and empowering faculty and research excellence. During his tenure, the University has seen record applications and enrollment, attracting an increasingly diverse and academically accomplished undergraduate student body. With Chancellor Syverud's vision and steadfast support, Syracuse University has become the best private university for veterans, with enrollment of veterans and military-connected families more than tripling since 2014. The expansion of Syracuse University's D'Aniello Institute for Veterans and Military Families and the creation of the National Veterans Resource Center at the Daniel and Gayle D'Aniello Building, a state-of-the-art facility to house innovative military-centered programming, are core to Syracuse University being the best place for veterans.
Under his leadership, the University has hired more than 500 faculty since 2018 into targeted interdisciplinary research clusters designed to tackle some of the world's biggest challenges, strengthen research, and expand faculty diversity. Embracing innovation, including in online degrees and programs, Chancellor Syverud oversaw Syracuse's launch of one of the first online J.D. degree programs in the nation in 2019. Syracuse University has built financial strength and stability, with the endowment nearly doubling to more than $1.7 billion in 2022 and more than $1.3 billion raised in the ongoing Forever Orange Campaign. In the last ten years, Chancellor Syverud's commitment to academic excellence and a robust student experience has translated into physical changes that enhance the beauty and function of the University's historic campus. Transformational projects completed as of 2023 include opening the Barnes Center at the Arch, a holistic student health and wellness facility; renovating the Schine Student Center to better meet the needs of today's students; renovating the iconic Dome; and replacing a busy road with a pedestrian-friendly promenade through the heart of campus.
A noted legal scholar and teacher, Chancellor Syverud continues to teach a course each semester in the College of Law and the Martin J. Whitman School of Management. In addition to his leadership of Syracuse University, he has led the effort to update the governance of the Atlantic Coast Conference, serving as the Chair of the Board of Directors from 2019-2021 and as the chair of the 2020 search for the new Commissioner, James Phillips. He continues to serve on the ACC Executive Committee. He also currently serves on the Boards of the Crouse Health System, The SUNY College of Environmental Science and Forestry, and Scouting's Longhouse Council. Chancellor Syverud previously served as Commissioner for the Middle States Commission on Higher Education, as co-Chair of the Regional Economic Development Council for Central New York, and as Chair of the Law School Admissions Council. In 2016, he completed six years of service as a trustee of the Deepwater Horizon Oil Spill Trust, the $20 billion fund created by BP and the White House to manage claims related to the Gulf Oil Spill.
Hailing from Irondequoit in Upstate New York, Chancellor Syverud came to Syracuse from Washington University in St. Louis, where he served as dean and the Ethan A.H. Shepley Distinguished University Professor at the School of Law. Prior to that, he served as dean at Vanderbilt University Law School and as associate dean for academic affairs and professor at University of Michigan Law School. An elected member of the American Law Institute, Syverud's scholarship has addressed negotiation, civil litigation, dispute resolution, and higher education.
Chancellor Syverud has a bachelor's degree from Georgetown University School of Foreign Service and a law degree and master's in economics from University of Michigan. He counts among his closest mentors retired U.S. Supreme Court Justice Sandra Day O'Connor, for whom he clerked shortly after she became the first woman named to the Supreme Court bench.
Chancellor Syverud is married to Dr. Ruth Chen, an environmental toxicologist and professor of practice at Syracuse University's College of Engineering and Computer Science. They are the parents of three grown sons, Steven, Brian, and David; and they have four grandchildren.