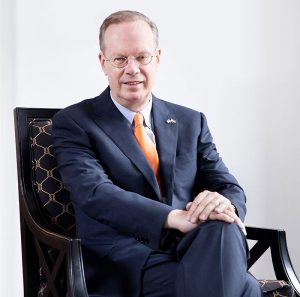 Chancellor Kent Syverud is the 12th Chancellor and President of Syracuse University. A legal scholar and academician, Chancellor Syverud earned distinction as a strategic thinker and visionary leader who has put forward a bold strategic plan to position the University for growth and recognition as a thriving global research university.
At Syracuse, Chancellor Syverud identified four key institutional priorities: providing an outstanding undergraduate experience; empowering research excellence; fostering and supporting change and innovation; and positioning Syracuse as the best university in the world for veterans. The Chancellor also launched an academic strategic planning process that builds on historic institutional strengths, positions the University to anticipate and quickly respond to emerging challenges and opportunities, and aligns the academic goals with a new framework for the physical transformation of the main campus.
A native of Irondequoit in Upstate New York, Chancellor Syverud came to Syracuse from Washington University in St. Louis, where he served as dean and the Ethan A.H. Shepley Distinguished University Professor at the School of Law. Prior to that, he served as dean at Vanderbilt University Law School and as associate dean for academic affairs and professor at University of Michigan Law School. At Syracuse, he continues to teach each semester as a member of the College of Law and School of Education faculties. An elected member of the American Law Institute, Syverud's scholarship has addressed negotiation, civil litigation, dispute resolution, and higher education.
Chancellor Syverud has a bachelor's degree from Georgetown University School of Foreign Service and a law degree and master's in economics from University of Michigan. He counts among his closest mentors retired U.S. Supreme Court Justice Sandra Day O'Connor, for whom he clerked shortly after she became the first woman named to the Supreme Court bench.
In addition to his higher education leadership, Chancellor Syverud in 2016 completed six years of service as one of two trustees of the 420 billion Deepwater Horizon Oil Spill Trust.
Chancellor Syverud currently serves as Chair of the Atlantic Coast Conference Board of Directors as well as serves on the boards of The Commission on Independent Colleges and Universities in New York, SUNY College of Environmental Science and Forestry, Crouse Hospital and the Boy Scouts of America Longhouse Council.  He also served as a Commissioner for the Middle States Commission on Higher Education, Chair of the Law School Admissions Council and was Co-chair of the Regional Economic Development Council of Central New York.
Chancellor Syverud is married to Dr. Ruth Chen, an environmental toxicologist and professor of practice at Syracuse University's College of Engineering and Computer Science. They are the parents of three grown sons, Steven, Brian, and David; and they have one granddaughter.