Lois Agnew is Interim Dean of the College of Arts and Sciences (A&S). Before being named to this position in July 2022, Agnew served as A&S associate dean of curriculum, innovation and pedagogy from 2017-22 and as chair of the Department of Writing Studies, Rhetoric, and Composition from 2012-17. A professor of writing and rhetoric and a gifted leader, scholar and teacher, Agnew has been a member of the Syracuse University community since 2004.
---
Mary Grace A. Almandrez serves as the Vice President for Diversity and Inclusion. She integrates her commitment to social justice, strategic leadership and interdisciplinary approach into her work to advance diversity, equity, inclusion and accessibility across campus. Her professional career reflects a breadth and depth of higher education experiences, including organizational development, student affairs, policies and procedures, recruitment and retention, campus climate, crisis management, education and training, curriculum and pedagogy, and program assessment and evaluation.
---
Steven Bennett joined the University as Senior Vice President for Academic Operations in 2017. He also serves as Chief of Staff in the Office of Academic Affairs, overseeing academic operations for administrative units that report to the Office of the Provost, including Syracuse Abroad and satellite facilities around the U.S. and the globe. He works closely with the Provost and their leadership team on academic unit budgeting, personnel management, communications, advancement and strategic planning.
---
Craig M. Boise became the 12th Dean and Professor of Law at the College of Law in July 2016, where he has continued to build a reputation as one of legal education's leading innovators. While at the College of Law, he has established the nation's first hybrid online J.D. program, the first online joint J.D./M.B.A. program and a unique pre-law/3+3 program for undergrad students at three Historically Black Universities and Colleges in Atlanta, among other achievements.
---
Duncan Brown is the Vice President for Research and Charles Brightman Endowed Professor of Physics. He earned his Ph.D. in physics from the University of Wisconsin-Milwaukee and spent three years at Caltech as a post-doctoral scholar, where he was mentored by Nobel Prize laureates Kip Thorne and Barry Barish before joining Syracuse University in 2007. An internationally recognized leader in gravitational-wave astronomy and astrophysics, Brown was integral to the discovery of gravitational waves by the Laser Interferometer Gravitational-wave Observatory (LIGO).
---
Kelly Chandler-Olcott is the Interim Dean of the School of Education and Laura J. and L. Douglas Meredith Professor for Teaching Excellence. A former high school English and social studies teacher, she has taught English methods and content literacy courses to secondary and K-12 education majors for nearly 25 years.
---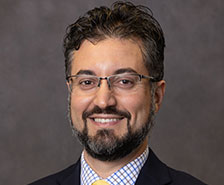 Guilherme Costa was named Interim Senior Vice President and University Secretary, effective January 1, 2022. Costa heads the office of the Board of Trustees, which is responsible for coordinating and facilitating the activities of the Board and its various committees to ensure the effective and efficient operation of the University's system of governance. Before his appointment, Costa served as Senior Associate Vice President and Deputy University Secretary at Syracuse University. Costa came to Syracuse from Ithaca College, where he served as Vice President, General Counsel and Secretary to the Board of Trustees.
---
Michael Frasciello is the Dean of the College of Professional Studies. In this role, Frasciello leads an evolving portfolio of market-sensitive residential and online undergraduate and graduate programs, executive and professional accelerated education and training, language and culture programming for international students, and pre-college programs.
---
Daniel French serves as Senior Vice President and General Counsel. A former U.S. Attorney for the Northern District of New York, French's private practice involves complex civil litigation and white collar criminal defense.
---
Andrew Gordon is Senior Vice President and Chief Human Resources Officer, providing strategic leadership on human resource matters and acting as the steward of the University's human capital in service to the University's academic mission. Gordon came to Syracuse from New York University, where he served as Vice President for University Human Resources and Global Support.
---
Allen Groves is the Senior Vice President and Chief Student Experience Officer for the University. He leads a team of experienced professionals who are responsible for student-facing services and support spanning the outside-of-the-classroom experience. This includes the areas of student living, involvement, cultural centers, health and wellness, and success, all working toward the goal of creating an unsurpassed experience for every student.
---
Marcelle Haddix serves as Associate Provost for Strategic Initiatives. In this capacity, she partners with Vice Chancellor, Provost and Chief Academic Officer Gretchen Ritter and others to connect Academic Affairs with the campus and surrounding community. She is the primary liaison to the University Senate and oversees the First Year Seminar and University-wide arts and humanities affiliates and programs. Haddix is a Dean's Professor of Literacy, Race and Justice. She was an inaugural co-director of the Lender Center for Social Justice and facilitates literacy programs for adolescent and adult communities in Syracuse.
---
Mike Haynie is Vice Chancellor for Strategic Initiatives and Innovation, University Professor, Executive Director of the University's Institute for Veterans & Military Families, and the Barnes Professor of Entrepreneurship at the Whitman School of Management. Shortly after joining the faculty in 2006, he founded the Entrepreneurship Bootcamp for Veterans with Disabilities program.
---
Candace Campbell Jackson serves as Senior Vice President and Chief of Staff to Chancellor Syverud. An accomplished higher education executive, Jackson is recognized for being an exemplary strategic and operations leader with a strong record of achieving successful outcomes in all critical higher education management functions, including academic affairs, athletics, auxiliary enterprises, board relations, communications and marketing, enrollment management, executive recruitment and team building, fundraising, governmental affairs, grants administration, international programs, planning, safety and strategic planning.
---
Chris Johnson serves as Associate Provost for Academic Affairs. In this capacity, Johnson partners with Vice Chancellor, Provost and Chief Academic Officer Gretchen Ritter and other Academic Affairs leaders to support key academic initiatives and advance the University's vision and mission as outlined in the Academic Strategic Plan. A professor in the Department of Civil and Environmental Engineering, Johnson also served as Interim Director of the Renée Crown University Honors Program.
---
Cydney Johnson is Vice President of Community Engagement and Government Relations, responsible for leading the community engagement team as it continues to advance the University's robust portfolio of community-connected programs and initiatives. In addition, Johnson has responsibility for the strategic planning and implementation of the legislative and advocacy agenda for Syracuse University at the federal, state, and local level.
---
As the Dean of Hendricks Chapel, Brian Konkol guides, nurtures, and enhances religious, spiritual, and ethical life at the University and across its extended community. In addition to his years of experience in South America and Africa, he most recently served as Chaplain of the College and as a faculty member in Peace, Justice, and Conflict Studies at Gustavus Adolphus College.
---
Mark Lodato was appointed Dean of the S.I. Newhouse School of Public Communications in July 2020 after more than 14 years at Arizona State University's Walter Cronkite School of Journalism and Mass Communication, where he most recently served as associate dean. Prior to joining the Cronkite School, Lodato worked 16 years as an award-winning television reporter and anchor for television stations in Washington D.C., San Francisco, Phoenix and Ft. Myers, Fla.
---
Alex McKelvie is Interim Dean at the Whitman School of Management. Alex previously worked as Associate Dean at the Whitman School for four years and as the Chair of the Department of Entrepreneurship & Emerging Enterprises (EEE). A Professor of Entrepreneurship, Alex has been a faculty member at Syracuse University since 2007.
---
Diane Lyden Murphy was appointed Dean of the David B. Falk College of Sport and Human Dynamics in 2005, following a 17-year appointment as director of the Women's Studies Program. Her professional contributions include co-authoring the University's sexual harassment policy, developing adoption and domestic partner benefits and creating a family-friendly environment.
---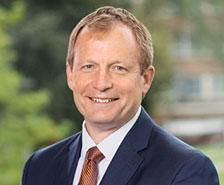 Brett Padgett serves as Senior Vice President and Chief Financial Officer. He oversees the financial well-being of Syracuse University, working closely with Chancellor Syverud to proactively position the University to navigate a dynamic financial landscape, optimize resources and investments, and align the budget model in support of the University's core mission of academic excellence. Padgett is responsible for leadership of the finance and administration functions, including campus facilities, comptroller's office, institutional risk and audit, budget and planning, treasury, and real estate.
---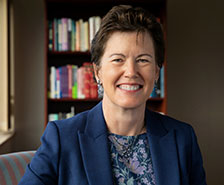 Gretchen Ritter is the Vice Chancellor, Provost and Chief Academic Officer. She joined Syracuse University in October, 2021 from the Ohio State University College of Arts and Sciences, where she was executive dean and vice provost. In that position, she led Ohio State's largest college, which is home to 38 academic departments and schools and more than 20 centers and institutes.
---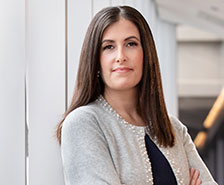 Dara Royer is the Senior Vice President and Chief Marketing Officer. In this role she's responsible for oversight of marketing efforts, including strategic marketing campaigns, digital and content marketing, and brand stewardship as has been recognized with an ICON Award in 2021 and 2022 as a Top 50 Marketer in the country.
---
As Vice President and Chief Facilities Officer, Peter Sala oversees all operations of Syracuse University's athletic facilities, including the JMA Wireless Dome, as well as other campus departments including Campus Planning, Design and Construction; Business and Facilities Maintenance Services; Physical Plant; Housing and Food Services Maintenance; and Energy Systems and Sustainability Management.
---

Dean of Libraries and University Librarian David Seaman has lectured and published extensively in the fields of humanities computing and digital libraries, and for many years taught at the University of Virginia's Rare Book School. He currently also serves as interim dean of the School of information Studies.
---
J. Cole Smith joined the College of Engineering and Computer Science as Dean in October 2019. Smith came to Syracuse from Clemson University, where he was Associate Provost for Academic Initiatives and previously served as Chair of the Department of Industrial Engineering.
---
Michael Speaks is Dean of the School of Architecture, and has published and lectured internationally on contemporary art, architecture, urban design and scenario planning. He has taught in the graphic design department at the Yale School of Art, and in the architecture programs at Harvard University, Columbia University, the University of Michigan, UCLA.
---
A Peabody and Emmy award-winning journalist, Jeff Stoecker was appointed Vice President and Chief Communications Officer in April 2020. Stoecker oversees all day-to-day operations of University communications, including executive and internal communications and media relations, and provides strategic guidance, media relations expertise, crisis counsel and communications support. He also serves as the University's primary spokesperson.
---
Chief Advancement Officer and Senior Vice President Matthew Ter Molen provides counsel to the Chancellor to determine long-term expectations for a best-in-class advancement organization, including planning, timeline, allocation of resources, capacity projections and infrastructure needs.
---
With extensive experience in the performing arts, arts administration, teaching, fundraising and academic leadership, Michael Tick assumed the role of Dean of the College of Visual and Performing Arts on July 1, 2016.
---
Peter Vanable is Associate Provost for Graduate Studies and Dean of the Graduate School, and a professor of psychology and adjunct professor of medicine at SUNY Upstate Medical University. Vanable served as Interim Vice President of Research from January 1, 2016 to August 31, 2017.
---
David Van Slyke is Dean of the Maxwell School of Citizenship and Public Affairs and the Louis A. Bantle Chair in Business-Government Policy. Van Slyke is a leading international expert on public-private partnerships, public sector contracting and contract management, and policy implementation.
---
Director of Athletics John Wildhack is responsible for leading the daily operations of a 20-sport athletics department with more than 550 student-athletes in an environment that coaches, administration and staff foster for student-athletes to maximize their performance in the classroom and on the playing field to prepare them for future success.
---
Ryan Williams is the Vice President for Enrollment Services and oversees the Office of Admissions, the Office of Financial Aid and Scholarship Programs, the Enrollment Processing Center, the Office of Institutional Research and the Student Employment Office. Williams came to Syracuse from the College Board, where he served as Vice President for Enrollment Programs and Services. In addition, he has held positions at Harvard University, Boston University and the University of Rochester.
---
Jamie Winders serves as Associate Provost for Faculty Affairs. In this capacity, Winders partners with Vice Chancellor, Provost and Chief Academic Officer Gretchen Ritter and other Academic Affairs leaders to support key faculty initiatives and advance the University's vision and mission as outlined in the Academic Strategic Plan.