Vice President for Diversity and Inclusion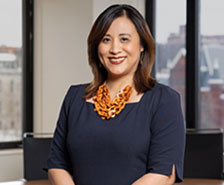 Mary Grace A. Almandrez serves as Vice President for Diversity and Inclusion. She integrates her commitment to social justice, visionary leadership and interdisciplinary approach into her work to advance diversity, equity, inclusion and accessibility (DEIA) across campus. Almandrez oversees the Office of Diversity and Inclusion, facilitates critical programs and initiatives, and partners with key constituencies to achieve the priorities outlined in the University's DEIA Strategic Plan and Academic Strategic Plan.
Almandrez's professional career reflects a breadth and depth of higher education experiences, including organizational development, student affairs, policies and procedures, recruitment and retention, campus climate, crisis management, education and training, curriculum and pedagogy, and program assessment and evaluation. Since March 2020, Almandrez has served as associate vice president and chief diversity officer at the University of Rhode Island (URI) after serving in an interim role for over a year. Before joining URI, she spent seven years at Brown University, where she served in a number of leadership positions, including associate vice president of campus life and dean of students. Prior to Brown, she was assistant dean for multicultural student services at the University of San Francisco. She began her career as the director of multicultural services at McDaniel College.
In addition to her administrative work, Almandrez teaches leadership and diversity courses to high school, undergraduate and graduate students. She is also a seasoned conference presenter, trainer and consultant. She is an active member of several professional organizations, including the National Association of Diversity Officers in Higher Education and Philippine Academic Association-Northeast. She also served as a member of the Steering Committee of the A-10 Commission on Racial Equity, Diversity and Inclusion, College Visions Board of Directors, and Congressman Jim Langevin's Diversity and Equality Advisory Committee. Almandrez has been recognized for her leadership by URI, Brown University, University of San Francisco, National Association of Student Personnel Administrators and Sojourner House.
Almandrez earned a bachelor's degree in sociology from the University of San Diego, a master's degree in human resources development from McDaniel College and a doctor of education in organization and leadership from the University of San Francisco. She also holds a certificate from Harvard Graduate School of Education's Institute for Educational Management.
Almandrez was born in the Philippines and grew up in San Diego, California.