Senior Vice President and Chief of Staff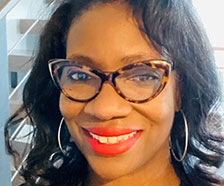 Candace Campbell Jackson serves as Senior Vice President and Chief of Staff to Chancellor Syverud. An accomplished higher education executive, Jackson is recognized for being an exemplary strategic and operations leader with a strong record of achieving successful outcomes in all critical higher education management functions including academic affairs, athletics, auxiliary enterprises, board relations, communications and marketing, enrollment management, executive recruitment and team building, fundraising, governmental affairs, grants administration, international programs, planning, safety and strategic planning.
Upon arriving at Syracuse University in August of 2015, Jackson and Chancellor Syverud quickly joined forces to complete the building of the senior leadership team – successfully identifying and recruiting new senior leaders in the areas of academic affairs, enrollment and the student experience, finance, marketing and communications, athletics, and the Hendricks Chapel. In her role as Chief of Staff, Jackson works closely with the Chancellor and all members of the senior leadership team to advance the University's key strategic priorities and operating goals. She works collaboratively with the Senior Vice President and University Secretary in the Office of the Board of Trustees to help support the Chancellor's partnership with the Board and to ensure effective engagement with the senior leadership team.
Jackson oversees agenda development for all meetings of the senior vice presidents and the deans, and acts as an executive project manager to make sure the Chancellor's annual goals are met and significant progress towards the five-year goals is achieved. In addition to chairing the University Leadership Team – a collective of the University's top 140 leaders, Jackson also manages the operations and staff of the Chancellor's Office.
Prior to joining Syracuse University, Jackson worked at the University of Akron in numerous leadership roles including Vice President and Chief of Staff, Vice President for Student Success, Vice President for Strategic Partnerships, and Vice Provost. Akron's leadership team, led and coordinated by Jackson, achieved one of the most significant milestones in the university's history – completion of a $700 million New Landscape for Learning capital enhancement program resulting in fourteen new academic and student experience buildings, including a 30,000-seat football stadium. Jackson's Chief of Staff duties at Akron also included designing and leading the strategic planning process, culminating in a campus-wide and community engaged planning and visioning process that engaged more than 3,500 members of the Akron community.
As Vice President for Student Success, Jackson provided strategic and operational leadership to nearly 600 employees in over 25 student success and student academic support units with a budget of $80 million. Under Jackson's leadership, this division won 14 national awards, including recognition for comprehensive campus programming – Campus of the Year in 2012 and 2014 from Campus Activities Magazine.
In her capacity as Vice Provost, Jackson worked closely with the Akron provost on planning and implementing the University's Retention and Graduation Plan, which improved retention by 8%. Additionally, she had oversight for securing and administering $7 million dollars annually in federal and state college access scholarships, which supported first-generation and low-income students and their families to successfully navigate college.
Prior to her career in higher education, Jackson was an attorney in the Public Law and Corporate departments of the law firm Buckingham, Doolittle & Burroughs, LLP, providing counsel to educational organizations, municipalities, healthcare organizations and private family foundations, practicing in the Akron and Cleveland, Ohio offices.
A graduate of Howard University with a Bachelor of Arts degree in journalism, Jackson received a J.D. from the University of Akron. To further develop her higher education administration skills, Jackson participated in the intensive, highly selective Harvard Institute for Educational Management program. She has been a featured lecturer in the university community in the higher education administration, leadership, sports law and administrative law areas.
Jackson has been recognized for outstanding leadership and public service by the Girl Scouts, YWCA, Inside Business, Crain's Business and the University of Akron School of Law. Jackson is a frequent speaker on the topics of leadership, higher education administration, non-profit and private foundation management. Jackson enjoys giving keynote addresses for organizations whose work and missions inspire her.
In the Syracuse community, Jackson enjoys serving on the executive committee of the board of trustees of Manlius Pebble Hill School, an independent K-12 school and on the CNY Community Foundation Say Yes to Education Committee. She is married to Mark A. Jackson and they have four adult children and two granddaughters. Candace and Mark Jackson are proud residents of downtown Syracuse.