Senior Vice President and Chief of Staff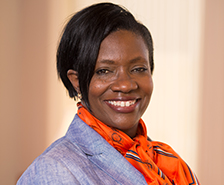 Candace Campbell Jackson comes to Syracuse University from the University of Akron in Akron, Ohio, where she served as the vice president for student success and vice provost for academic success, working with university's senior leadership team to provide the best overall experience to a community of 26,000 students.
At the University of Akron, Jackson provided strategic and operational leadership to nearly 600 employees in over 20 student success and student academic support units. In her capacity as vice provost, Jackson worked closely with the provost on planning, partnerships and operations of the Office of Academic Affairs, which oversees academic planning and budgeting, accreditation and the university's Colleges of Arts & Sciences, Health Professions, Law, Engineering, Education and Business. Additionally, Jackson oversaw the Office of International Programs and the federally funded TRIO programs, which support first-generation and low-income students and their families to successfully navigate college.
Previously, Jackson served as vice president and chief of staff to the president, and vice president for strategic partnerships. Jackson coordinated a campus-wide strategic planning and visioning process at Akron, engaging more than 3,500 members of the university community in the process. The result, Vision 2020—The New Gold Standard of University Performance, incorporated a new vision and mission along with six strategic goals to sustain the university's future success.
Prior to her career in higher education, Jackson was an attorney in the Public Law and Corporate departments of the law firm Buckingham, Doolittle & Burroughs, LLP, providing counsel to educational organizations, municipalities, healthcare organizations and private family foundations, practicing in the Akron and Cleveland offices.
A graduate of Howard University with a bachelor of arts degree in journalism, Jackson received a J.D. from the University of Akron. She participated in the intensive, highly selective Harvard Institute for Educational Management program for higher education administrators.