Vice President for Enrollment Services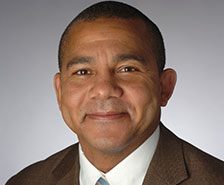 Ryan Williams was named Vice President for Enrollment Services on July 1, 2018.  In this role, he oversees the Office of Admissions, the Office of Financial Aid and Scholarship Programs, the Enrollment Processing Center, the Office of Institutional Research and the Student Employment Office.
Prior to being named Vice President, Williams held several positions at the University beginning in March of 2012, including Senior Associate Vice President, Interim Senior Associate Vice President and Associate Vice President.
Before coming to Syracuse, Williams had most recently served as Vice President for Enrollment Programs and Services at the College Board in Reston, VA. For a period, he was also the Acting Senior Vice President, reporting directly to the Chief Operating Officer. Before joining the College Board in 2007, he was the Director of University Financial Services at Harvard University, in Cambridge, MA.
While at the College Board, Williams was responsible for strategic leadership and overall management of the Enrollment Division, consisting of the Recruitment and Admission System and the Financial Aid System, which helps colleges and universities identify, recruit, admit, aid, and retain students. This included the Student Search Service, PowerFAIDS and the CSS/Financial Aid PROFILE.
At Harvard, Williams served as the university's chief student financial services officer, and managed eight finance and business operations offices that included Accounts Receivable, Cash Receipts, ID Services, Student Loans, Student Receivables, University Financial Aid Liaison, Mortgage and Educational Loans, and University Financial Services Customer Service Team. Williams was also chosen to lead the inaugural diversity and inclusion workgroup by the Chief Financial Officer.
Previous to that, Williams was the Director of Financial Aid at Boston University and the University of Rochester, respectively.
Williams earned a bachelor's degree from Earlham College in Richmond, IN and an M.S. in education from the University of Rochester.