Dean, Maxwell School of Citizenship and Public Affairs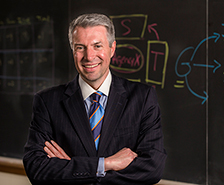 David Van Slyke is Dean of the Maxwell School of Citizenship and Public Affairs and the Louis A. Bantle Chair in Business-Government Policy. Prior to becoming Dean on July 1, 2016, Van Slyke was Associate Dean and Chair of Maxwell's department of public administration and international affairs. He is a tenured, full professor of the Maxwell School and the College of Arts and Sciences and a two-time recipient of the Birkhead-Burkhead Award and Professorship for Teaching Excellence.
Van Slyke is a leading international expert on public-private partnerships, public sector contracting and contract management, and policy implementation. He is Director and Fellow of the National Academy of Public Administration, a co-editor of the Journal of Public Administration Research and Theory and the Journal of Strategic Contracting and Negotiation. He also sits on the editorial boards of several top-ranked public affairs journals. He has provided expert guidance to the Office of Management and Budget, the Government Accountability Office, the U.S. Coast Guard, and the World Bank. As part of his work and research he has worked extensively with senior leaders in government, nonprofit and business organizations in China, India, Peru, Singapore, Thailand and many other countries through the Maxwell School's Executive Education program.
Van Slyke earned a Ph.D. in public administration and policy from the Rockefeller College of Public Affairs and Policy at the University at Albany, State University of New York. Prior to becoming an academic, he worked in the private, public and nonprofit sectors.