Dean, College of Visual and Performing Arts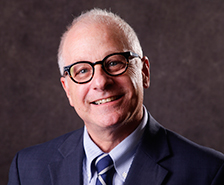 Michael Tick assumed the role of Dean of the College of Visual and Performing Arts on July 1, 2016. Tick comes to Syracuse from the University of Kentucky, Lexington, where as Dean of the College of Fine Arts since 2010, he managed a $38 million budget and 180 faculty in art and visual studies, music, theater, dance and arts administration, as well as the University's accredited art museum and performing arts center.
During Tick's tenure at the University of Kentucky, the College of Fine Arts secured more than $45 million in state appropriations and private philanthropy for capital projects and academic programs. Highlights include the acquisition and renovation of a historic building for the School of Art and Visual Studies and the establishment of a Creative Arts Living Learning Community that will support programs across the arts with studios, rehearsal and performance spaces, writing labs and more, all housed in a new 1,100-bed residential hall. Under his leadership the Arts Administration Program established the first fully online master's program in arts administration at a public university, and a graduate program in music therapy, a partnership with UK HealthCare. Partnerships across campus were central to Tick's administration, with strategic interdisciplinary initiatives through the College of Communication and Information, College of Arts and Sciences, College of Design and the College of Medicine, among others.
Tick's vision for the College of Fine Arts included expanded international exchanges for students and faculty. To that end, the college, in collaboration with the award-winning UK Confucius Institute, developed 2+2 and 3+1 agreements with the Art College of Inner Mongolia University, Shanghai University and Jilin University. Discussions are in progress for a similar program in Malaysia and South Korea.
Prior to his tenure at UK, he spent 11 years at Louisiana State University in Baton Rouge, as chair of the Department of Theatre and artistic director of Swine Palace, LSU's professional Equity theatre. Under his leadership, students had expansive opportunities to study with internationally renowned performing artists and companies. He implemented an impressive number of public-private partnerships between LSU and arts organizations from New York City to London to South Korea.