Associate Provost, Graduate Studies; Dean, Graduate School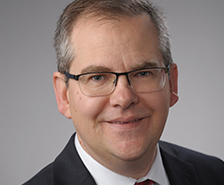 Peter Vanable was named Associate Provost for Graduate Studies and Dean of the Graduate School on January 1, 2017. He served as Interim Vice President of Research from January 1, 2016 to August 31, 2017. Vanable is a professor of psychology and adjunct professor of medicine at SUNY Upstate Medical University. He served as chair of psychology for six years, an appointment that began in August of 2009.
Vanable has published more than 100 peer reviewed papers and book chapters on topics related to HIV risk reduction, coping with chronic illness, and substance abuse. He has been principal investigator or co-investigator on more than $8 million in research grants from the NIH, including funding for Project iMPPACS, a four city health promotion intervention for at-risk adolescents. Vanable is a regular reviewer for the NIH and is currently an Associate Editor at the journal AIDS and Behavior.
Vanable is the past recipient of an excellence in Graduate Education Faculty Recognition Award (2013) and was elected to Fellow status by the Society of Behavioral Medicine in 2012.
Vanable served on Syracuse University's Institutional Review Board for seven years and was appointed to serve as chair in 2014. Vanable is a past member of Syracuse University's Senate Budget Committee and was recently appointed to serve on the Chancellor's Steering Committee for oversight of the University's Fast Forward Syracuse initiative, designed to improve operational efficiencies and leverage funds to enhance investment in high impact research.
Vanable earned an undergraduate degree from Kenyon College in 1990 and a Ph.D. in clinical psychology from the University of Illinois at Chicago in 1998. Prior to joining the faculty at Syracuse University, Vanable completed a post-doctoral fellowship at the University of Chicago.