Dean, S.I. Newhouse School of Public Communications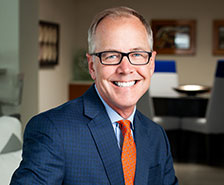 Mark J. Lodato was appointed Dean of the S.I. Newhouse of Public Communications in July 2020. He leads a team that includes some 200 faculty and staff and more than 2,400 students.
Lodato joined the Newhouse School after more than 14 years at Arizona State University's Walter Cronkite School of Journalism and Mass Communication, where he most recently served as associate dean and associate general manager at Arizona PBS. At ASU his portfolio included supervision of the Cronkite School's broadcast and sports curriculum. A member of the leadership team, his duties also included undergraduate recruitment and retention, student services, establishing new media partnerships and development. He is the 2014 recipient of the ASU Faculty Achievement Award for Excellence in Curricular Innovation and a member of the Scripps Howard Academic Leadership Academy class of 2013. Lodato has served on multiple site teams for the Accrediting Council on Education in Journalism and Mass Communications.
At the Cronkite School, Lodato established new partnerships with leading media corporations including NBC News, ABC News, Meredith Corporation, Scripps Corporation, Fox Sports Arizona, Univision and Cox Communications. He supervised the Cronkite School and Arizona PBS broadcast news operations, including the national award-winning television newscast, "Cronkite News." Under his leadership, Cronkite School broadcast students consistently ranked among the nation's best in premier journalism competitions, including the Hearst College Journalism Awards, the Society of Professional Journalists Mark of Excellence Awards and the Broadcast Education Association Festival of Media Arts awards.
Lodato joined the Cronkite School after working 16 years as an award-winning television reporter and anchor for television stations in Washington D.C., San Francisco, Phoenix and Ft. Myers, Fla. A native of Menlo Park, Calif., Lodato holds a bachelor's degree from the University of Missouri and a master's degree in higher education administration from Arizona State University.