Steven Bennett is Senior Vice President for International Programs and Academic Operations and Chief of Staff, Academic Affairs. In this capacity, he plays a critical role in overseeing academic operations for administrative units that report to the Office of the Provost, including Information Technology, budget, Syracuse Abroad, and satellite facilities around the U.S. and the globe. He also works closely with the Provost as chief of staff in the Office of Academic Affairs.
---
Senior Vice President and University Secretary Lisa Dolak is responsible for ensuring the effective and efficient operation of the University's system of governance. Dolak is the Angela S. Cooney Professor of Law, and previously worked as a synthetic organic chemist in pharmaceutical research.
---
Daniel French serves as Senior Vice President and General Counsel. A former U.S. Attorney for the Northern District of New York, French's private practice involves complex civil litigation and white collar criminal defense.
---
Andrew Gordon is Senior Vice President and Chief Human Resources Officer, providing strategic leadership on human resource matters and acting as the steward of the University's human capital in service to the University's academic mission. Gordon came to Syracuse from New York University, where he served as Vice President for University Human Resources and Global Support.
---
Allen Groves is the Senior Vice President for the Student Experience, serving as the chief student affairs officer for the University. He leads a team of experienced professionals who are responsible for student-facing services and support spanning the outside-of-the-classroom experience. This includes the areas of student living, involvement, cultural centers, health and wellness, and success, all working toward the goal of creating an unsurpassed experience for every student.
---
Mike Haynie is Vice Chancellor for Strategic Initiatives and Innovation, University Professor, Executive Director of the University's Institute for Veterans & Military Families, and the Barnes Professor of Entrepreneurship at the Whitman School of Management. Shortly after joining the faculty in 2006, Haynie founded the Entrepreneurship Bootcamp for Veterans with Disabilities program.
---
Candace Campbell Jackson serves as Senior Vice President and Chief of Staff to Chancellor Syverud. An accomplished higher education executive, Jackson is recognized for being an exemplary strategic and operations leader with a strong record of achieving successful outcomes in all critical higher education management functions, including academic affairs, athletics, auxiliary enterprises, board relations, communications and marketing, enrollment management, executive recruitment and team building, fundraising, governmental affairs, grants administration, international programs, planning, safety and strategic planning.
---
As the Dean of Hendricks Chapel, Brian Konkol guides, nurtures, and enhances religious, spiritual, and ethical life at the University and across its extended community. In addition to his years of experience in South America and Africa, he most recently served as Chaplain of the College and as a faculty member in Peace, Justice, and Conflict Studies at Gustavus Adolphus College.
---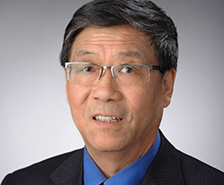 John Liu was named Interim Vice Chancellor and Provost, effective Jan. 6, 2020. Liu had served as Vice President for Research since Sept. 2017, providing strategic leadership for the research mission of the University. Liu came to Syracuse from Auburn University, where he served as Associate Provost and Associate Vice President for Research. He is an international leader in the area of aquaculture genomics and bioinformatics.
---
Dara Royer is the Senior Vice President and Chief Marketing Officer. In this role she's responsible for oversight of internal and external marketing efforts including strategic marketing campaigns, digital and content marketing, and brand stewardship. Her team of professionals are champions for promoting and protecting SU's reputation as one of the pre-eminent and inclusive student-focused research universities.
---
As Vice President and Chief Facilities Officer, Peter Sala oversees all operations of Syracuse University's athletic facilities, including the Dome, as well as other campus departments including Campus Planning, Design and Construction, Business and Facilities Maintenance Services, Physical Plant, Housing and Food Services Maintenance, and Energy Systems & Sustainability Management.
---
A Peabody and Emmy award-winning journalist, Jeff Stoecker was appointed Vice President and Chief Communications Officer in April 2020. Stoecker oversees all day-to-day operations of University communications, including executive and internal communications and media relations, and provides strategic guidance, media relations expertise, crisis counsel and communications support. He also serves as the University's primary spokesperson.
---
Chief Advancement Officer and Senior Vice President Matthew Ter Molen provides counsel to the Chancellor to determine long-term expectations for a best-in-class advancement organization, including planning, timeline, allocation of resources, capacity projections and infrastructure needs.
---
Director of Athletics John Wildhack is responsible for leading the daily operations of a 20-sport athletics department with more than 550 student-athletes in an environment that coaches, administration and staff foster for student-athletes to maximize their performance in the classroom and on the playing field to prepare them for future success.