Associate Vice President and Chief of Campus Safety and Emergency Management Services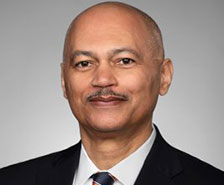 Craig A. Stone was appointed Associate Vice President and Chief of Campus Safety and Emergency Management Services in April 2022. Stone leads a team of over 200 staff, directing all administrative, operational and financial functions of the Department of Public Safety (DPS), Emergency Management and Global Safety and Support units.
Stone has more than 38 years of public safety experience. He previously served as officer, and then lieutenant, with the Columbus Ohio Division of Police; the Deputy Director of Public Safety for the City of Columbus; Executive Director of Public Safety and Chief of Police at the University of Illinois at Urbana-Champaign; Chief of Police at Ohio State University; and Director of Campus Safety and Chief of Police at Cleveland State University.
Stone has served nearly two decades as team lead assessor for the Commission on Accreditation for Law Enforcement Agencies, Inc. He has served as a subject matter expert and adjunct professor for Franklin University in Columbus, Ohio.
Stone received a master of science degree in the administration of justice from the University of Louisville. He is also a graduate of the International Association of Campus Law Enforcement Administrators, Executive Development Institute; Southern Police Institute, 120th Administrative Officers Course; Ohio Association of Chiefs of Police, Police Executive Leadership College; and the United Way of Central Ohio, Project Diversity Program.
DPS is the third largest full-service law enforcement entity in Onondaga County and responds to approximately 60,000 calls annually. The department provides emergency first-responder service to the University community, including law enforcement and security patrols, investigations, crime prevention, emergency and non-emergency communications, fire and life safety and global safety support services.