Senior Vice President and Chief Student Experience Officer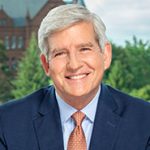 Allen Groves serves as Senior Vice President and Chief Student Experience Officer for the University. He leads an experienced team of professionals who are guided by the goal of "creating an unsurpassed student experience" for every student at the University. Operational units reporting to Groves include the Barnes Center at The Arch (student counseling, health, wellness and recreation services), Campus Safety and Emergency Management Services (Public Safety and Fire and Life Safety Services), Career Services, Center for International Services, Community Standards, Dean of Students, Disability Cultural Center, Fraternity and Sorority Affairs, Learning Communities, LGBTQ Resource Center, Multicultural Affairs, New Student Programs, Parent and Family Services, Student Engagement, Student Employment, Student Living (residential, off-campus and commuter communities), Student Outreach and Student Title IX Case Management. He also works closely with the Chancellor and the Provost in the University's pursuit of a global student experience through its exceptional Syracuse Abroad programs.
Groves came to Syracuse University from the University of Virginia (UVA), where he served for 14 years as Associate Vice President and University Dean of Students. At UVA, he oversaw an array of student-facing support services including residential life, orientation and new student programs, multicultural services, student centers, fraternity and sorority life, student engagement, and incident response, while also serving on the institution's threat assessment and critical incident management teams. He has received numerous awards and accolades for his personal commitment to students and their development. In 2014-15, Groves was one of 30 citizens appointed by the Governor of Virginia to develop a set of best practices for preventing sexual assault on college and university campuses. He was also named one of eight "OUTstanding Virginians" in 2014 for his demonstrated commitment to full equality for LGBTQ citizens.
Prior to his leadership roles in higher education, Groves was an equity partner in the global law firm Seyfarth Shaw LLP, serving as litigation practice group chair in Atlanta while representing clients in a wide range of matters over a 16-year career. He earned a J.D. degree from the University of Virginia School of Law and a B.A. degree in history from Stetson University, where he received the Rhett Award for the best research manuscript.