Senior Vice President and Chief Human Resources Officer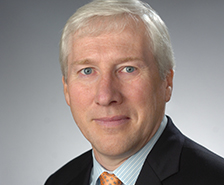 Andrew Gordon provides strategic leadership on human resource matters, acting as the steward of the University's human capital in service to the University's academic mission. Gordon has administrative oversight for all aspects of the human resource function, including organizational development, training and professional development, talent management, diversity, academic human resources, compensation, labor relations and employee relations, staff recognition, administration of the human resources management system, benefits administration, departmental strategic planning, the early education and child care center, and faculty and staff assistance programs.
Gordon came to Syracuse from New York University (NYU), where he served as Vice President for University Human Resources and Global Support. There, Gordon restructured operations to incorporate a human resources shared services model, implemented new technology and database systems for benefits, payroll and human resource transactions, and guided directional changes to ensure priority of developing talent through career development and the integration of collaborative cross-functional teams. Gordon played an integral role in ensuring the successful transition of the Polytechnic University from an independent university to NYU's School of Engineering.
Prior to assuming his position at NYU, Gordon served as the executive director of human resources and employee relations for the New York City Department of Education, where he directed human resources programs, policies and decision making for an infrastructure responsible for 135,000 employees and serving 1.2 million students. Gordon's private-sector experience includes leading the development and implementation of a multi-disciplinary employment and employee relations consulting practice within the multinational consulting company Marsh McLennan in London. He also taught law at an affiliated college of the University of London. He began his professional career serving a federal judge in Alexandria, Virgina, before practicing law with a firm specializing in complex commercial and employment matters.
Gordon earned a J.D. from the College of William & Mary and a bachelor of arts from Clark University in Worcester, Massachusetts.