Senior Vice President and Chief Marketing Officer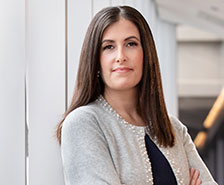 Dara Royer is the Senior Vice President and Chief Marketing Officer. In this role she is responsible for oversight of internal and external marketing efforts including strategic marketing campaigns, digital and content marketing, and brand stewardship. Her team of professionals are champions for promoting and protecting SU's reputation as one of the pre-eminent and inclusive student-focused research universities.
Prior to her appointment at SU, Royer served as Chief Development and Marketing Officer for Mercy Corps, a leading global organization operating in 42 countries. Royer was responsible for private, corporate and foundation fundraising, global marketing and brand development. She also served as a member of the Executive Leadership Team. Under her leadership, her division substantially increased private fundraising while dramatically elevating the organization's profile. In 2017 Harris Poll EquiTrend recognized Mercy Corps the "Brand of the Year" and "Most Loved" International Aid nonprofit. She and her team were also honored with multiple national industry awards for the development and global rollout of a new brand identity.
Before joining Mercy Corps in 2013, Royer served as Vice President of Brand Marketing for ALSAC/St. Jude Children's Research Hospital, the largest healthcare charity in the world. There, she was responsible for overseeing a large and diverse marketing team driving hundreds of national fundraising and awareness campaigns annually. Prior to this role, she spent a number of years as a leader of ALSAC's Radio and Entertainment Team, raising more than $30 million annually through more than 200 radiothons and celebrity events.
Royer began her career as an Emmy and AP award-winning television journalist with ABC, CBS and NBC affiliates across the country. Royer received a certificate in Executive Leadership from Harvard Business School. She earned her BA in History from Indiana University in Bloomington.