Dean, Hendricks Chapel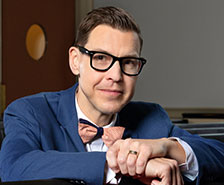 The Rev. Brian Konkol serves as Dean of Hendricks Chapel and Professor of Practice at Syracuse University.
An ordained Lutheran minister, Konkol is responsible for guiding, nurturing, and enhancing religious, spiritual, moral, and ethical life at the University and across its extended community. As a member of Chancellor Kent Syverud's Executive Team, Chancellor's Council, and University Leadership Team, Konkol provides support and input for university-wide strategic initiatives and overall operations.
Since arriving to Syracuse University in 2017, Konkol has collaborated alongside students, chaplains, faculty, staff, board members, and alumni to steward Hendricks Chapel through a period of transformational change and expanded impact. A strategic plan initiated by Konkol has reaffirmed Hendricks Chapel as a central component of campus life, focused on increasing student involvement by understanding and addressing student aspirations, clarifying the chapel mission, pursuing organizational innovation and excellence, inspiring philanthropic support, and cultivating a commitment to diversity, equity, inclusion, and accessibility.
Established in 1930 as a home for all faiths and place for all people, Hendricks Chapel hosts 13 chaplains, 25 student-led religious and spiritual groups, and sponsors over 1,000 programs for more than 500,000 annual attendees. Bolstered by Chancellor Syverud's focus on redefining and enhancing every aspect of the student experience and empowering faculty and research excellence, and fueled by recent and significant increases in philanthropic contributions, Hendricks Chapel employs student workers, supports musical ensembles, offers support through the Student Opportunity Fund, Food Pantry, and campus garden, hosts signature events and convenes critical conversations, and partners throughout the campus community to advance academic excellence at a university welcoming to all.
As Professor of Practice in the Department of Religion in the College of Arts and Sciences, Konkol teaches courses on global Christian practices, and is also a Senior Research Associate in the Program for the Advancement of Research on Conflict and Collaboration (PARCC) in the Maxwell School of Citizenship and Public Affairs, Honorary Associate Professor in the School of Religion, Philosophy and Classics at the University of KwaZulu-Natal in South Africa, and co-founder of the Fellowship for Emerging Leaders in Ministry through a partnership with Le Moyne College. Konkol is a published author and sought-after international speaker on the intersections of leadership, learning, belief, character, discovery, and fulfillment.
Konkol has a diverse and global background of leadership and learning. He began ordained ministry service through parishes of the Evangelical Lutheran Church in Guyana, where he also lectured at the Lutheran Lay Academy and co-hosted the nationally televised broadcast "Word for the World." He served on various community organizing committees throughout Guyana, many of which focused on ecumenical and interfaith cooperation, poverty, children and youth development, and ecological sustainability.
Konkol then served in South Africa as country coordinator of the Young Adults in Global Mission program of the Evangelical Lutheran Church in America (ELCA). While in South Africa, Konkol also assisted in parish ministry alongside isiZulu-speaking congregations of the Evangelical Lutheran Church in Southern Africa, lectured at the Lutheran Theological Institute and participated with the World Council of Churches and Lutheran World Federation in the Conference of the Parties to the United Nations Framework Convention on Climate Change.
After nearly a decade overseas with the ELCA Global Mission, Konkol then served as co-pastor of Lake Edge Lutheran Church (Madison, WI), with responsibilities for multicultural engagement and public advocacy. Immediately prior to his appointment at Syracuse University, Konkol was chaplain of the college at Gustavus Adolphus College (St. Peter, MN), where he was also co-founder and program chair for the Gustavus Academy of Faith, Science, and Ethics, faculty member in the Peace, Justice, and Conflict Studies Program, helped to construct the college's first multifaith center, and was faculty liaison to the men's basketball team.
Originally from Amherst Junction, Wisconsin, Konkol competed on the men's basketball team while earning a Bachelor of Science degree in criminal justice from Viterbo University (La Crosse, WI). He earned a Master of Divinity degree from Luther Seminary (St. Paul, MN), and Master of Theology and Doctor of Philosophy degrees in the School of Religion, Philosophy, and Classics at the University of KwaZulu-Natal (Pietermaritzburg, South Africa).
Konkol is married to Kristen Konkol, Associate Teaching Professor of Exercise Science at the David B. Falk College of Sport and Human Dynamics of Syracuse University. They are parents of two children, Khaya and Tobi.