Interim Senior Vice President and Chief Financial Officer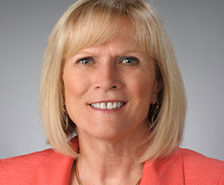 Gwenn Judge was named Interim Senior Vice President and Chief Financial Officer (CFO), effective Sept. 9, 2021. Judge, who most recently served as Senior Associate Vice President for Budget and Planning, previously served as interim CFO from June 2016 to Feb. 2017.
Judge joined the University in 1980, spending seven years as manager of budget and business operations for the University's College of Law. She then joined the Office of Budget and Planning as a senior budget and planning analyst with responsibilities that included budget development, oversight, analysis and forecasting of University enrollment, revenues, financial aid, as well as the budgets for school, college and other academic units. Judge was promoted to associate director in 1999 and had served as director since 2007, until her promotion to senior associate vice president in 2021.
In her role in the Office of Budget and Planning, Judge was responsible for the preparation and management of the University's consolidated annual operating and capital budgets and multi-year financial plans, as well as the budget functions within the University's financial accounting and human resource systems. She also served as a key advisor to University leaders, spearheading the implementation of financial initiatives and supporting long-range budget planning and resource allocation consistent with established priorities for effective fiscal and operational management. She and her staff work closely with unit fiscal officers, deans, and the Chancellor's Executive Team to establish budgetary and financial planning parameters, maintain budgetary controls, and to provide decision-support analysis.
Judge was a member of the executive team that developed the University's Responsibility Center Management (RCM) budget model. She was instrumental in the implementation of the model and leads the collaborative effort among units across the University for successful deployment of budget processes and the supporting infrastructure. Judge serves as a resource to the Advisory Board Council regarding budget-related matters, and is responsive to inquiries from the Advisory Board Council and universities and colleges that are in the process of evaluating or converting to a RCM budgeting model.
Judge has served successfully on numerous executive committees regarding fiscal restructuring, sustainable benefits, systems implementations, operational excellence, and efficiency. Through her extensive knowledge regarding administrative and academic objectives, she is committed to support the development of policies and strategies that support both current and long-term University budget goals. She has served as a member of the University Senate, Senate Committee on Athletic Policy, and Senate Budget Committee for several years.
Judge received a bachelor's degree in business administration from Siena College with a major in accounting and a concentration in economics.