Senior Associate Vice President for Auxiliary Services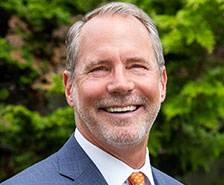 Kris Klinger is Senior Associate Vice President for Auxiliary Services, reporting to Interim Senior Vice President and Chief Financial Officer Gwenn Judge. In this role, he oversees operations in Food Services; Housing, Meal Plan, and I.D. Card Services; Parking and Transportation Services; Drumlins Country Club; Minnowbrook Conference Center; the Sheraton Syracuse University Hotel and Conference Center; the Syracuse University Campus Store and Trademark Licensing.
Klinger began his tenure at the University in July 2020. He has more than 30 years of experience in hospitality and auxiliary services and spent the previous 11 years as Assistant Vice President within the University of Southern California's Auxiliary Services department.
Klinger has worked to develop long-range strategies for Auxiliary Services to ensure efficient operations and continuous improvement to meet the University's goals and mission. As Auxiliary Services touches nearly every aspect of University life, he collaborates with other campus leaders to advance a number of key initiatives in an effort to enhance the living and learning experience for the University's diverse student population.
During his time at USC, Klinger led the hospitality and hotel units and supported the operations team at the Los Angeles Memorial Coliseum. He oversaw 42 residential, catering and retail food service operations, serving over four million meals annually to a student, staff and faculty population of more than 75,000. While leading the housing unit at USC, Klinger supervised 53 housing complexes with 9,200 beds and introduced dedicated housing for USC's veteran students.
Klinger earned his MBA at the USC Marshall School of Business and a bachelor's degree in German and international relations from the same university. Over the course of his career, Klinger has earned recognition from the National Association of College Auxiliary Services, the Association of College and University Food Services, the American Culinary Federation, the National Restaurant Association, and the International Coaching Federation. He is a veteran of the United States Marine Corps and served on the board of advisors for the USC Masters in Business for Veterans program.